Use our → interactive map of the locations of the "changing places" in Baden-Wuerttemberg to find the currently available facilities.
Each of the listed locations features, among others, this icon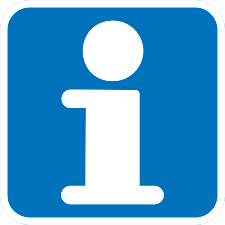 with a white [ i ] on a blue background.
By clicking it, you can view the "profile" of the respective toilet together with useful information.
---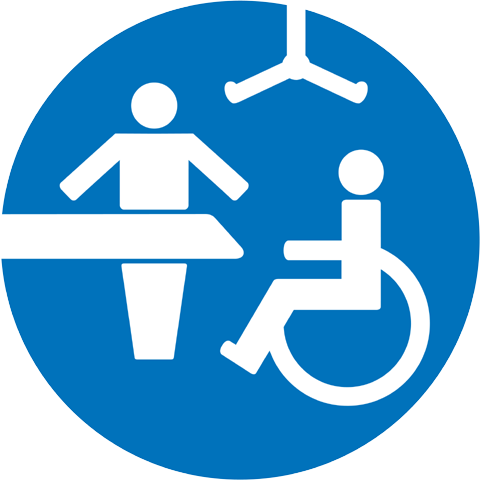 All "changing places" are marked with this icon
"changing places".
Please bring your own sling to use the patient hoist!
For hygienic reasons, there are no slings in the "changing places" (as they must be washed after each use for hygienic reasons). Moreover, many users feel more comfortable using their own familiar sling. By the way: the slings are all-purpose slings - they may be used regardless of the manufacturer of the patient hoist available.
Some places feature a standard sling - for emergencies, so-to-speak.
Please ensure that the patient hoist and changing bench are handled and operated properly!
Patient hoists and changing benches are classified as medical products that may be used only by instructed people. As a permanent user you are familiar with the proper handling and have been instructed on how to operate comparable devices.
Please handle the items of equipment in the "changing place" with care!
Yes, this is a matter of course. All the same, we would like to ask you to leave the "changing place" the way you would like to find it.
The users who visit the "changing place" after you will thank you.
If available, please fold up the wall-mounted folding bench again!
In order to save space, some "changing places" are equipped with a wall-mounted folding bench. This way, there are no limitations to the necessary movement area for people with disabilities who can use the toilet. Therefore, it is important that you fold up the wall-mounted folding bench again after using it.
Please read the notes in the profiles of the "changing places"!
Our interactive map also contains profiles of the individual "changing places" in Baden-Wuerttemberg. Among others, you will find information on accessibility and equipment.
Please let us know about any defects you may encounter!
Despite all care, it may happen that the height-adjustable changing bench or the patient hoist is defective. If there is a contact person on site (e.g. in a shopping centre, in a public building), go there to report the defect. Otherwise, do get in touch with us (by phone at +49 (0)711 / 505 3989 - 0 or by sending an e-mail to info@lv-koerperbehinderte-bw.de). We know the people in charge at the respective sites and will forward your message - we promise!
---
Did you know?
The German title of the campaign "Changing Places" is "Toiletten fuer alle", "toilets for all".